Step 1: Register a Domain Name

Before you even think about building your website, you should register a domain name. A domain name is the thing that looks like this: "yourdomain.com".
Your domain name represents the URL (or permanent web address) of your website. Therefore, when anyone types in "yourdomain.com" or "www.yourdomain.com", they will see your website.
You register your domain name through a domain name registrar or hosting provider. You simply check that your preferred domain name is available, then register it (online).
Domain names are registered on an annual basis, and you can usually register it many years in advance (or set 'auto-renew').
Prices can range from between $10 to $15 up to as much as $35 or even $45 (this is for the same product!).
ZappyHost
has some of the best prices on the web - and if you purchase hosting at the same time, the domain name is even cheaper ($1.99 at time of writing).
If you don't have a domain name yet,
get your domain name now
(before someone else beats you to it!)
Step 2: Get a Web Host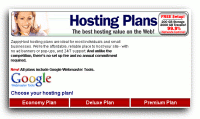 A web host (or hosting provider), is a company that makes your website available for the world to see. They have the equipment and technical skills to make sure your website is available to the world, 24 hours a day, 7 days a week.
Choose your hosting provider carefully - a good host will have excellent support. A bad host can have almost no support at all! If you're new to creating websites, good support can reduce the stress that comes from doing something for the first time.
Also, some web hosts have an online website builder. A good website builder can enable anyone to build a website - even complete novices.
If you like the idea of using an online website builder, check out
Website Tonight
from ZappyHost. This enables you to build a website virtually within minutes, and hosting is included (as well as plenty of other extras).
If you don't need a website builder (i.e. you prefer to build your website by yourself), ZappyHost also provides some
great hosting plans
. Once you've built your website, simply upload it via FTP.
If you'd like to learn more about web hosts, check out my
web hosting tutorial
.
Step 3: Build your Website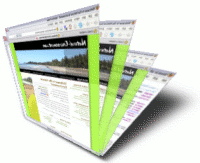 This part can be as easy or as hard as you like it to be!
The easy way? The easiest way to build a website is to use your web host's website builder (assuming they have one). As mentioned, ZappyHost provides
Website Tonight
which makes it extremely easy for you to build your website.
The hard way? OK, if you think a website builder sounds too much like cheating, you probably want to learn how to build a website the way the pros do it - by coding/programming. If this sounds like you, then see this
introduction to making your own website
. Also check out the
Quackit homepage
for links to thousands of pages of tutorials and other web building resources.
Also, if you need to build an ecommerce website, check out the
Quick Shopping Cart
ecommerce website builder.
Tip: ZappyHost offers even cheaper domain names ($1.99 at time of writing) if you register it at the same time you purchase a non-domain product (for example, open a hosting or web builder account). Therefore, make sure you purchase your domain name and web hosting/website builder at the same time.